Turkish Deputy PM Numaan Kurtulmus today confirmed that the Kurdish YPG has finally withdrawn its forces from the former ISIS city of Manbij, in northern Syria, following long-standing demands by Turkey that all Kurdish forces withdraw across the Euphrates River.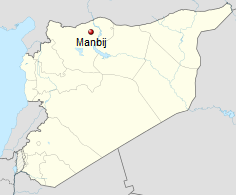 Kurtulmus welcomed the move, but insisted that Turkish troops "will continue our determination in the region until all means of terror is eliminated completely." While this might preclude an offensive against Manbij, something expected since Turkey invaded Syria, it doesn't necessarily mean there won't be an offensive against the YPG.
That's because while Turkey initially presented their demands being the YPG withdrawing from west of the Euphrates River, they've also suggested that one of their goals within Syria is to remove "terror" groups from the entire border, which includes a substantial strip of Kurdish territory spanning the border east of Jarabulus.
Turkey has repeatedly referred to the YPG as a terrorist group, claiming them to be in league with the Kurdish PKK, a secessionist movement in southeastern Turkey. They have also insisted they don't see a difference between the YPG and ISIS, and have warned the US not to allow the YPG to participate in the offensive against Raqqa.