The first presidential debate of 2016 was held this evening at Hofstra University, with former Secretary of State Hillary Clinton and Donald Trump squaring off in a far-reaching debate that covered such crucial issues as President Obama's birth certificate and Rosie O'Donnell's appearance.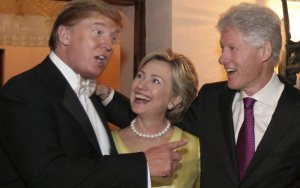 But in the middle of all that, they found some time to discuss foreign policy, however briefly, with each candidate loudly attacking the other as the harbinger of a risky policy that would imperil the United States across the world, while mostly avoiding specifics.
The first topic in foreign policy was cyber-security, during which Clinton again blamed Russia for hacking the DNC, and threatened a "different kind of warfare" against Russia in retaliation for such moves. Trump also called for the US to dramatically build up its cyber capabilities, but noted that it was far from certain that Russia was responsible.
Both then attacked one another on ISIS policies, despite their respective narratives both being a vague call for more escalation. Trump claimed that if the US had "taken the oil" during the last Iraq occupation, ISIS would never have existed, while Clinton just called for more airstrikes.
Trump also went after the Iran nuclear deal, against falsely claiming the US "gave" Iran $150 billion, and claiming Iran was "a country that was ready to fall" in the absence of the deal. Clinton responded by defending the deal, but falsely claimed Iran was "weeks away" from a nuclear weapon.
Further on the nuclear issue, Trump presented Russia as a major nuclear threat, insisting that they have newer nuclear capabilities. He did, however, suggest he's leaning toward the US never launching a nuclear first strike, but that he was loathe to "take anything off the table."
Clinton's own comments on nuclear weapons centered primarily on condemning Trump, claiming he was in favor of worldwide proliferation of nuclear arms and that he's too dangerous to give control of nuclear weapons to. Despite also being asked on the first strike question, she did not present any sort of answer.