Turkish Deputy Prime Minister Numan Kurtulmus today sought to distance his government from a month and a half of allegations of American involvement in the failed July military coup, saying that there is no evidence America even knew the coup was going to happen, let alone that they were involved.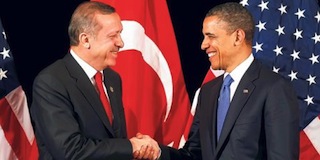 Several Turkish officials, including President Erdogan, had made claims of a "foreign power" backing the coup, usually with references to cleric Fethhullah Gulen being based in Pennsylvania. Pro-government media outlets were more overt in allegations, accusing top US military personnel and the CIA of direct involvement in the attempt.
Turkey is eager to get Gulen extradited from the US, and it seemed the accusations were part of a strategy to convince the US to prove its loyalty to Turkey by speeding up the process. With the US now making it clear that's not going to happen, they're backing away.
Kurtulmus did, however, say that Turkey still expects that the US will ultimately hand over Gulen, though he conceded it might take some time because of the judiciary process. The US has insisted that the extradition request, though including substantial paperwork, included not a single piece of evidence of Gulen's involvement in the coup. Gulen has denied any role in the coup, and condemned it.