After occupying the city of Jarabulus, early operations by Turkish invasion forces in northern Syria focused on the immediate surrounding area, and while there was considerable expectation that the immediate move would be southward, against Manbij, that no longer appears to be the case.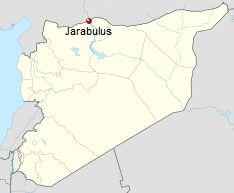 Instead, Turkish strikes are being conducted further west, along the border region, focusing primarily on the ISIS forces in that area. Indications from Turkey-backed rebels are that their expectation also is to move westward, eventually aiming to take Marea and link up with allies in Azaz.
Turkish officials say that they are hoping US pressure can convince Kurdish forces to move back across the Euphrates River, abandoning Manbij and the surrounding area.
The US might well be all the more eager to help Turkey in this regard if the focus of their war is shifted away from attacking the Kurds, a US ally, and toward attacking ISIS. At the same time, Turkey and the Syrian Kurds don't appear likely to be stable neighbors, meaning this may only forestall, and not prevent, fighting.