The US Treasury Department today announced the addition of a number of companies to their list of sanctions related to the Crimean Peninsula, this time going after companies involved in the construction of the Kerch Strait bridge, which links the peninsula to Russia.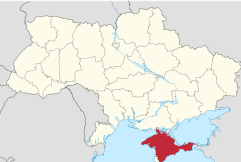 This included multiple Russian bridge-building companies, and several subsidiaries of OAO Gazprom. 11 Crimean officials were also sanctioned over the construction, which intends to build a $3.2 billion bridge spanning 19km.
The Treasury Department insisted this showed they continue "condemning Russia's violation of international law, and we will continue to sanction those who threaten Ukraine's peace." The US objects to Crimea's 2014 secession from Ukraine and its accession into the Russian Federation.
At the same time, the bridge plan was initially made between Russian and Ukrainian officials way back in 2010. Ukraine only withdrew from the bridge construction deal in late 2014, after Crimea had already seceded, and primarily with an eye toward doing economic harm to the peninsula. Russian officials have not commented on the new sanctions, but it is doubtful the sanctions will have any impact on the plan.