The Turkey-backed coalition of Syrian rebels installed in the northern Syrian city of Jarabulus during Turkey's invasion last week was virtually given the city in the Turkish push, but keeping it, and the vast border zone that Turkey wants them to take over, looks to be a huge task.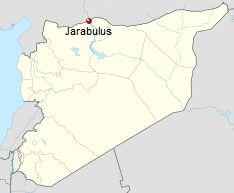 The rebels reported that they have between 1,200 and 1,500 fighters total, and while Turkey is moving south to challenge Kurdish control over the city of Manbij, the rebels are expecting to move westward, against the town of Marea, which they've contested with ISIS for months. That's a 70km trip, mostly through ISIS territory.
That would link them up with their existing territory around Azaz, but to do so requires them to capture materially the whole 90km-long border strip that Turkey intends to see them take, and is a tall order for a relatively small faction that, until Turkey trucked them into Jarabulus through Turkish territory, had been losing ground steadily to ISIS.
Unless Turkey intends to do all the heavy lifting for them, and stay in northern Syria over the long-term, it's hard to see how this collection of rebels can possibly hold that much ground with that few fighters, even assuming they can take it in the first place.
This is doubly true because Turkey's plans to expel Kurdish forces from the western side of the Euphrates River means that the "rebel" territory is going to go pretty deep into the country in parts, meaning this is going to be a very large territory they're planning to hold.