According to the local White Helmets Civil Defense group, a series of airstrikes hit a produce market on the outskirts of the northern Syrian city of Idlib, the de facto capital city of the territory of former al-Qaeda affiliate the Nusra Front.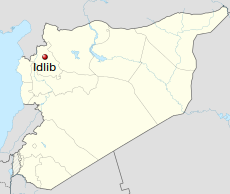 Details are still scant on the strike, in the Marret Masreen suburb, but the NGO blamed the strikes on both Syrian and Russian warplanes, and claimed that they were using cluster bombs in the attack. At least seven were confirmed killed, and dozens wounded.
Syrian forces and Nusra have been fighting in the neighboring Aleppo Province for months, and this has led to a growing number of airstrikes against Idlib as they try to keep Nusra reinforcements from arriving. Unfortunately, as is so often the case, these airstrikes end up hitting innocent bystanders.
The White Helmets have repeatedly claimed the use of cluster bombs in strikes against Idlib. Russia has denied using cluster bombs in Syria, though there is some evidence to support the allegations that they've at least been deployed to the country. Neither Syria nor Russia, nor indeed the US or Turkey, are signatories to the Cluster Munitions Convention banning such bombs.