After launching a surprise invasion of northern Syria earlier this week, top Turkish officials are making it clear that the military operation there is open-ended, with a growing number of military goals being set out for the operation, which started as a way to help the rebels capture Jarabulus from ISIS.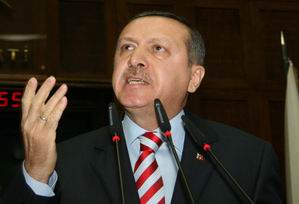 Now, in addition to "cleansing" ISIS, Prime Minister Yildirim insists Turkey's goal is to "cleanse" the whole border of all "militants," which presumably doesn't include the Islamist rebels they just got done installing in Jarabulus, as a way to keep refugees from trying to enter from Syria.
Even that is just part of the new military operation, with officials also making clear that both expelling the Kurdish YPG from all territory west of the Euphrates River and scaling back Kurdish territory in the far northeast of Syria are major parts of the conflict.
President Recep Tayyip Erdogan was quick to emphasize the importance of fighting the Kurds, saying that today's bombing inside Turkey, carried out by the Kurdish PKK, made Turkey more determined than ever to fight the YPG, a different Kurdish group in a different country.