Nominally, Turkey's invasion of Syria earlier today centered on the border town of Jarabulus, held by ISIS. This town was taken almost immediately and with little effort, and the indications are that's more or less the end of Turkey's beef with ISIS for the time being.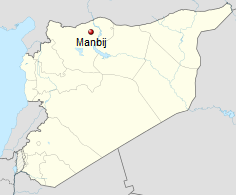 The invasion isn't ending, however, rather it is now focusing on its real target, the Syrian Kurds, with Prime Minister Binali Yildirim openly confirming that the military operation will continue until the Kurdish YPG is forced to abandon its territory on the west bank of the Euphrates River.
This primarily means the city of Manbij, which the Kurds seized with major US backing over the course of a two-month battle with ISIS. Turkish officials claimed the US promised them the Kurds wouldn't stay, and now seem to be prepared to enforce that militarily.
Kurdish officials are complaining Turkey's operation amounts to "blatant aggression," which doesn't appear to be in serious doubt. The YPG insisted it was up to the Syrian Democratic Forces (SDF) to decide if they will abandon Manbij. The YPG, of course, is the vast, vast majority of SDF leadership and forces, meaning it really is up to them.