On ABC's "This Week With George Stephanopoulos," Hillary Clinton's campaign manager Robby Mook was pressed on the Clinton Foundation's acceptance of massive foreign donations and last week's comments that she would only stop accepting such money if she gets elected.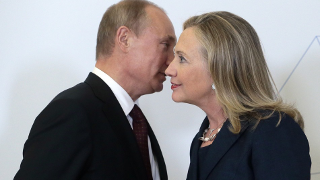 Mook quickly and emphatically dodged this question, insisting only that "millions of people" depend on the foundation, and instead started accusing Clinton's opponent in the election, Republican nominee Donald Trump, of being "just a puppet for the Kremlin."
This reflects an ongoing strategy of the campaign since the Democratic National Convention, during which a WikiLeaks release of emails was blamed on the Russian government, and then suggested to have been done as an attempt to get Trump elected.
Trump had faced considerable focus on the "Russia connection," leading to the removal of his former campaign manager Paul Manafort, who had worked on political campaigns in Ukraine supporting pro-Russian candidates. Mook insisted that Manafort's removal wasn't enough, and that Trump needed to explain just how much Russia has run his campaign.
Mook went on to accuse Trump of "parroting" Russian President Vladimir Putin in public comments, and further accused retired Lt. Gen. Michael Flynn, who has supported Trump, of being in league with Putin because of his appearances on RT.
This strategy is unlikely to end questions about the Clinton Foundation's conflict of interest problems, but at the very least has derailed that conversation for a day or two, while everyone once again wrings their hands about Kremlin plots.