As Turkey continues to round up detainees by the thousands, they have demanded the US immediately and unconditionally hand over exiled cleric Fethullah Gulen, warning that bilateral relations could be in jeopardy if the US refuses. US officials had previously said they are open to extradition, but have received no formal request, and no evidence.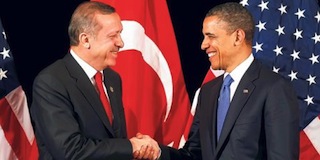 Indeed, US officials are expressing growing discomfort with Turkey's purge, saying they may be going too far. State Department spokesman Mark Toner saying in the US view, the move against 20,000 people goes far beyond bringing actual coup plotters to justice.
Secretary of State John Kerry went a step further, warning that Turkey's purge could end up violating NATO requirements to uphold the rule of law, and could jeopardize their continued membership in the military alliance.
That seems extremely unlikely, as since Turkey joined NATO in 1952, they've had multiple coups d'etat and attempted coups on top of that, and at no time did any of these impact NATO membership. US eagerness to keep on Turkey's good side, using them as a staging ground from which to attack the Middle East, almost certainly means this is an empty threat.