With the nation still struggling to come to terms with last week's high profile cafe attack, Bangladesh found itself once again the victim of a terror attack today, with an unidentified group of militants attacking a massive prayer gathering to celebrate Eid al-Fitr.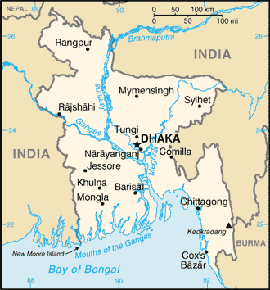 One of Islam's most important holidays, Eid al-Fitr marks the end of Ramadan, and some 300,000 people were gathered at the site of the attack, when militants showed up and started throwing bombs, quickly getting into a gun-battle with police.
The attack killed four people, including two police, and wounded over a dozen others. The Bangladesh government said it had anticipated the threat and had a lot of security in the area, explaining how they managed to stop the attack before the toll was much, much higher.
It is believed the intended target of the attack was Maulana Masud, a key liberal cleric in the area, who has been campaigning publicly against Islamist radicals. He had a security escort, and arrived by helicopter, with his potential targeting again no surprise for officials.
While there is no evidence yet public of who was behind the attack, officials once again say they believe it was a "domestic" faction, an attempt to downplay the possibility that this could be ISIS, which has been trying to establish a growing presence in the country.