NATO's non-stop efforts to build up more and more military forces around Russia's frontier has mostly centered on the Baltic Sea, but has also seen some planning take place a bit further south, with NATO's western members talking up the idea of a Black Sea Fleet to confront Russia there.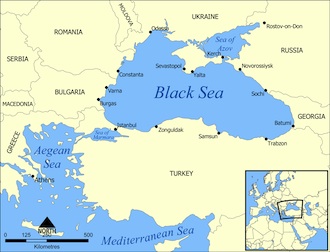 This is problematic, because the Montreaux Convention severely limits the deployment of ships from nations without a coast on the Black Sea. The three NATO members with such a coast are Turkey, Romania, and Bulgaria.
And Bulgaria wants no part of it. Speaking today at a press conference, Bulgarian PM Boiko Borisov said his government did not want to see military frigates sailing past its important tourist resorts, and that Bulgaria is a peaceful country with no designs on setting up a fleet to target anyone.
"I always say I want the Black Sea to see sailboats, yachts, large boats with tourists, and not become an arena of military action," he added. Russia had expressed opposition to a buildup in the Black Sea, saying it threatened regional stability. Russia has a significant fleet based in Sevastopol, in the Crimea.