According to the Syrian Observatory for Human Rights, US airstrikes have killed at least 15 civilians over the past 24 hours in the area around Manbij, in northern Syria. Three children were said to have been among the slain.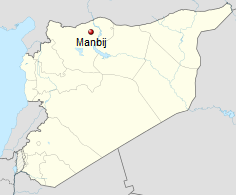 The strikes were done in support of the ongoing Kurdish YPG offensive against ISIS forces in the area around Manbij, on the western side of the Euphrates. Kurdish forces are said to have captured 15 villages in the area in recent days.
The Pentagon had confirmed conducting 18 airstrikes against the area around Manbij, which it described as a "strategic town," but CENTCOM has since insisted that it had no information of any casualties in the area, particularly civilians.
The US has only admitted to killing about 40 civilians over the course of the entire war, in both Iraq and Syria, though rights groups have put the figure roughly tenfold higher than that, in the 400 range. Most reported civilian deaths are dismissed out of hand by CENTCOM, which insists it only investigates the "credible" ones, and even then rarely offers any public accounting of their findings.