Al-Qaeda's Nusra Front has attacked and captured the western Syrian village of Zarra, a predominantly Alawite village along the highway between Homs and Hama, capturing a number of pro-government fighters in the offensive.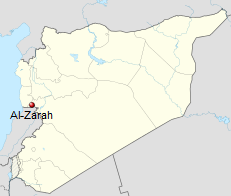 After taking the village, they were reported to have begun rounding up Alawite civilians, taking them to an unknown site. The Nusra officials claimed that the attack was part of a campaign for "revenge for Aleppo," raising fear of a massacre.
Syrian Prime Minister Wael al-Halqi reported on state media that the Islamists were looting the village and had killed a number of residents. Clashes continued over the village, with Syrian warplanes attacking the rebels inside the village and trying to push them back.
Syrian President Bashar al-Assad is a member of Syria's Alawite minority, an offshoot of Shi'ite Islam. They have regularly been targeted by Islamist rebel groups over the course of the civil war, perceived as all being loyalists to the government. Though officially the Alawite religious leadership is neutral, regular rebel attacks on them has virtually obliged many of the Alawites to indeed back the government side in the war.