A sudden outbreak of heavy fighting between Iraq's Kurdish Peshmerga forces and fighters from the Shi'ite Turkmen in the area around Tuz Khurmatu has left at least 10 fighters dead and several more wounded. It has also effectively closed the main highway between Baghdad and the city of Kirkuk.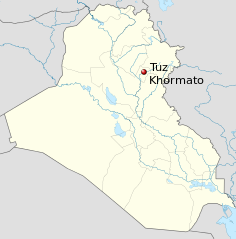 Tensions have been rising in the area since ISIS was expelled, with smaller, intermittent clashes becoming commonplace. This latest clash quickly escalated into a full-scale battle, with death tolls expected to rise further, as both sides deploy snipers that are preventing health workers from evacuating the wounded.
Both sides are also said to be waiting for an influx of reinforcements into the area, which likely portends a new round of major fighting in the days to come, a move which threatens to further exacerbate tensions between the Kurdistan Regional Government (KRG) and the Shi'ite majority in Iraq.
In the end, the alliance between these two groups was built around fighting ISIS, and the success of that alliance brought Kurds and Turkmen Shi'ites even closer together in proximity, underscoring their major differences.