Throughout the Syrian Civil War, there have been only a handful of incidents of fighting between Syria's military and the Kurdish forces in the northeast, and indeed the two sides have often cooperated in defending that area from ISIS.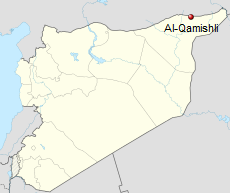 Not so today, however, as Syrian troops attempted to enter the city of Qamishli, only to be stopped at the checkpoint on the outskirts by Kurdish police. Arguing quickly escalated into a gunbattle, and in short order the Kurdish YPG arrived to back up the police.
Though there hasn't been an official toll yet on the incident, reports suggested four Syrian pro-government fighters and three Kurdish police were killed in the course of the fighting. 20 fighters from the pro-government force were also captured.
It is unclear what the troops were doing around Qamishli, but in January there were reports of Russian military engineers in the area, and they were seen as keen to establish an air base in the area.