Villages in the northernmost Iraqi province of Dohuk have been targeted repeatedly by Turkish warplanes in recent months, as the renewed Turkish war on the Kurdish PKK spans both sides of the border. It's taking a major toll on life in the area.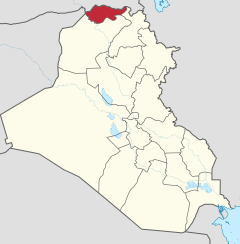 According to officials from the Kurdistan Regional Government (KRG), about half of the villages in Barwari District, which borders Turkey directly, are completely empty now, with several hundred families displaced deeper into Iraqi Kurdistan by the Turkish war.
Local farmers still go into the area from time to time to tend their crops, but have moved their families away. One such farmer reported the village is being bombed continuously even though it's empty.
Turkish officials regularly claim that airstrikes against northern Iraq kill large numbers of PKK, and deny civilian death tolls, even though the villages they're bombing are mostly populated by Assyrian Christians, and not Kurds in the first place.