Russian officials are scrambling to try to save a ceasefire in Nagorno-Karabakh, after a bloody four days of fighting between Azerbaijan and forces backed by neighboring Armenia. Foreign Minister Sergey Lavrov was dispatched to the Azeri capital, with Prime Minister Dmitry Medvedev heading to Armenia.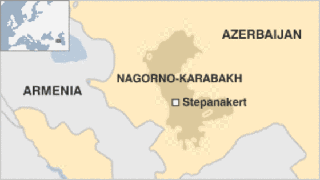 Both sides are blaming the other for starting the weekend fighting, and are similarly trading accusations of massive numbers of ceasefire violations now that the truce was agreed to, with the Azeri Defense Ministry claiming Armenian forces had violated the ceasefire 119 times in the past 24 hours.
Nagorno-Karabakh is recognized by the UN as part of Azerbaijan, but since 1994 has been controlled by an Armenian-backed government. The population is overwhelmingly ethnic Armenian, with most Azeris expelled in the early 1990s war.
Russia has good relations with both nations, but a formal defense treaty with Armenia. 5,000 Russian troops are also stationed in Armenia, primarily as a hedge against a potential Turkish invasion in case the fighting spreads. Turkey has loudly backed Azerbaijan over this claim.