A mid-day attack in the Iraqi village of Iskandariyah marred a high-profile soccer match between local teams, with an ISIS suicide bomber detonating in the crowd as the game ended, killing at least 30 people, including the village's mayor.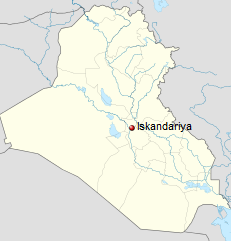 Iskandariyah, also known as Alexandria, is a Shi'ite dominated village, and is on the main highway linking the capital city of Baghdad to the religiously significant city of Karbala. The attack is just the latest in a long series of ISIS strikes against Shi'ite targets around Baghdad.
ISIS was quick to take credit for the attack, and claimed a much larger death toll, saying they killed at least 60 in the attack and wounded a large number of others.
Medical officials, however, confirmed only 30 people were killed in the attack, saying many others are badly wounded, and that the toll is expected to rise.