Despite yesterday's reports from Iraqi security officials suggesting ISIS was in the process of fleeing the easternmost part of Iraq's Anbar Province, ISIS forces today carried out multiple attacks against military targets near the capital of Ramadi, killing at least 47 troops and wounding scores more.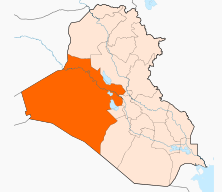 Overnight, ISIS forces attacked a military barracks near Zankurah, killing 22 soldiers. This was followed with a pair of suicide attacks against Iraqi military convoys not far away, which killed the additional 25.
ISIS held the city of Ramadi for much of 2015, though in December Iraqi military forces launched an offensive to "liberate" the city. By February the battle was declared won, though the city is also largely destroyed, and civilians are largely not being allowed to return to the city, which used to house 500,000 people.
Even with the loss of Ramadi, ISIS retains control of nearby Fallujah, and has a presence across the bulk of Anbar Province, along with territory further to the north, including the major city of Mosul. Iraqi officials have vowed to expel ISIS from Iraq outright by year's end.