Israeli Prime Minister Benjamin Netanyahu announced today that he will not be making a visit to Washington DC later this month to attend the AIPAC annual conference, and by extension is also refusing a proposed White House visit with President Obama.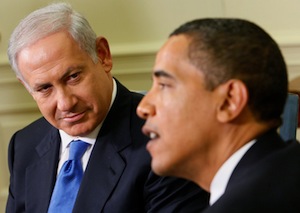 White House officials expressed outrage at the news that Netanyahu was not only declining their invitation, but hadn't declined to them personally, saying they first heard about it in the Israeli press, along with false claims from Israeli officials that there was no possible time to schedule the meeting with Obama.
Netanyahu had been due to arrive on March 18, and President Obama is scheduled to visit Cuba the same day, though the White House later confirmed that they'd offered to have Obama meet with Netanyahu before leaving for Cuba.
After the White House correction, Israeli officials insisted that the cancellation was because of the proximity to US primary elections, though no primary elections are scheduled for the duration of the planned visit. This  was seen as another slight to the White House, referencing Obama's refusal to meet Netanyahu last year in the lead-up to the Israeli elections.