Visiting with employees of key arms-maker BAE Systems, British Prime Minister David Cameron bragged up growing British arms sales to Saudi Arabia, saying BAE and other nations were sending "brilliant" and advanced weapons like Typhoon warplanes to the Saudis.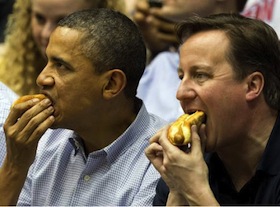 Cameron talked up the collective skills of his government in selling foreign arms exports, saying he was going to spend the next several months focusing on exports, to make sure BAE warplanes "are available and sold all over the world."
Cameron's comments come after months of human rights groups blasting arms exports to the Saudis, but were even more ill-timed coming just a day after the European Parliament voted 359-212 on a non-binding motion calling for all EU nations to impose an arms embargo on the Saudis.
The Saudis have faced widespread international condemnation for the massive number of civilians killed in their airstrikes against Yemen, with a UN report concluding the practice was deliberate and amounted to a war crime. Despite this, the US and Britain are both still backing the Saudis in the war, and not coincidentally are major arms exporters to the kingdom.