Speaking at the latest Republican debate, front-runner Donald Trump reiterated his belief that the world would be better off if Saddam Hussein was still in power in Iraq, and Moammar Gadhafi in Libya, saying ISIS would've never been able to seize parts of those countries if they were still there.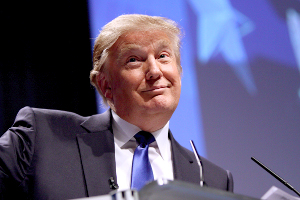 "They were bad, they were really bad but we would have been better off if the politicians had taken the day off and not gone into war," Trump added. Trump had made similar statements back in October on Meet the Press.
Trump's position is seen as controversial, particularly on Iraq, with most of the Republican field still cheering George W. Bush's decision to invade and occupy Iraq in 2003. Trump has presented his opposition to disastrous past wars as proof of his comparative sensibility.
At the same time, Trump continues to try to present himself as a hawkish candidate, a position seen as obligatory for a serious candidate in the GOP, and has repeatedly backed ground invasions in Iraq and Syria. He has, however, differentiated himself from the others both on his position on past wars, and his relative aversion to starting World War 3 with Russia.