Speaking to the Senate Foreign Relations Committee today, Secretary of State John Kerry suggested the latest push for a ceasefire in Syria could amount to the last chance for one, and suggested that the US would see a partition of the country as "plan B."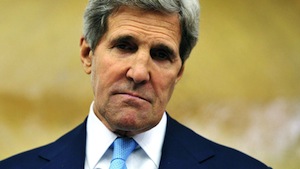 Kerry didn't offer any details on how this would work, of course, but that fact that the US is mentioning partition at all is a huge step, as the US has fiercely resisted similar considerations in neighboring Iraq, which itself is facing a near identical war with many of the same combatants.
Kerry said if the ceasefire didn't get into place, it would soon be "too late" to allow Syria to remain whole, and that the partition of the country could form an "eventual solution" to the civil war, which has raged for the past five years.
Though a de facto partition has existed in Syria for months now, with fighting along the margins, it's unfathomable that the international community could recognize it as a de jure separation so long as ISIS controls around half of the country, and al-Qaeda's Nusra Front has its own contiguous statelet in the north.
Though "partition" is meant to suggest a split on government-rebel lines, the reality is the rebels don't hold enough territory to be a country, and the partition would amount to a recognition of the ISIS caliphate as a state of its own.