Kufra Mayor Miftah Bou Khalil has reported today that heavy fighting in and around his town has left at least 30 fighters killed, and a number of others captured. The incident saw members of a local militia called Subul Assalam attacking a Sudanese group.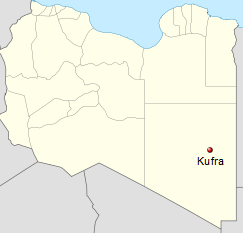 The Sudanese group, described as a rebel force from Darfur, is said to have set up shop at an oasis near Kufra, and the mayor says the group had been making raids into the town, carrying out armed robberies. Ultimately, the local militia decided to go after them.
The rebel group, which was unnamed in the reports, was attacked at both the oasis to the northwest of Kufra and at a nearby military checkpoint, with 30 Sudanese killed and four captured. A number of their vehicles were also reported destroyed.
According to the mayor, the local militia is aligned with the Tobruk-based parliament in the northeast, which is the UN-recognized parliament, though also the one with the least amount of territory and influence. Another parliament is based in Tripoli that controls a good chunk of territory in the west.