Just weeks after announcing their withdrawal from the Army of Conquest, the al-Qaeda-dominated coalition in and around Idlib Province, the Fallaq al-Sham has announced it is merging with eight other rebel factions in Aleppo to found the "Northern Brigade."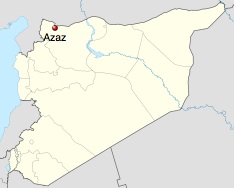 Fallaq al-Sham's territory was overwhelmingly in Aleppo Province, and the group withdrew amicably from the Army of Conquest so as to move its troops out of Idlib to defend its own territory in northwestern Aleppo Province.
The group did not specify all eight of the other rebel factions it is merging with, but seems to be the largest of the new "brigade." Ideologically, the group is seen as close to the Muslim Brotherhood, and is trying to present itself as a more "moderate" Islamist faction.
Their territory is along the Syria-Turkey border, and the group has been fighting along the frontier with ISIS' westernmost holdings in Aleppo. With the Kurdish YPG said to be preparing to attack that ISIS territory, they may look to seize some of the ISIS holdings around Azaz as well.
This merger appears to be separate from al-Qaeda's own merger proposal in Idlib, though it is likely that Fallaq al-Sham was invited into that merger, which did not end up happening, as it aimed to unify the bulk of Islamist factions as a counterbalance against ISIS.