At least 20 people were reported killed this evening and 15 others wounded when attackers launched a pair of bombs against the Splendid Hotel in Ouagadougou, Burkina Faso, forcing their way into the hotel in engaging in a protracted gunfire with security forces.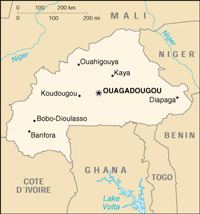 Al-Qaeda in the Islamic Maghreb (AQIM), an al-Qaeda affiliate based in northwestern Africa, has claimed credit for the attack, which appears to have been related to the use of the hotel by French troops involved in anti-Islamist operations in the region.
Witnesses said the attackers wore turbans, and were light-skinned, and that they appeared to be speaking a language not native to the country, a former French colony. Much of AQIM's power base is centered around Algeria and Mauritania.
So far the casualties haven't been identified by nationality, but the speculation, as with most such attacks, is that they aimed to kill foreign diplomats and tourists. The Burkinan government downplayed the situation, saying the security forces would quickly regain control of the situation.