Russian warplanes pounded a prison complex run by al-Qaeda's Jabhat al-Nusra in the town of Maarat al-Numaan today, killing at least 57 people and wounding 30 others. The building, which is a combination jail and religious court, is near a popular marketplace.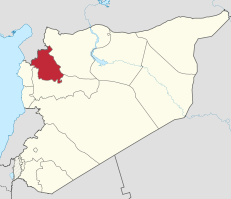 The split of casualties appears to be hotly disputed so far, with the Syrian Observatory for Human Rights initially claiming most of the slain were detainees and five civilians in the surrounding area, but now saying there were 21 civilians and only seven detainees killed.
Maarat al-Numaan is between the al-Qaeda capital of Idlib and the recently recaptured Syrian city of Hama, and would likely be an early target for the Syrian military in trying to regain Idlib Province. Russia has been backing these recent offensives, and today's attack may be a prelude to another one.
Al-Qaeda at present controls virtually the whole Idlib Province, along with some smaller allied Islamist groups calling themselves the Army of Conquest. The groups also have a foothold in both Aleppo and Latakia Provinces, but are meeting resistance going any further there.