Iraqi military officials have intended to complete the recapture of the Anbar capital city of Ramadi by the end of the month, and have ordered the remaining civilians out of ISIS-held parts of the contested city, anticipating that they will launch the attack on the central part of the city in "the coming hours."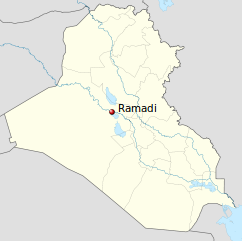 This offensive intends to cap off what's been around seven months of trying to reclaim Ramadi from ISIS, after a shocking defeat earlier this year. Iraq reclaimed parts of the city earlier this months, but ISIS still holds much of the center. Iraq's Defense Ministry is complaining ISIS isn't letting civilians out.
US officials have expressed doubt at Iraq's ability to recapture Ramadi by themselves, but have been spurned in offers of attack helicopters and "advisers" by the Abadi government, which is already under fire for allowing the US too much of a ground presence in Iraq.
The Iraqi military says it believes only between 250 and 300 ISIS fighters remain in Ramadi, a city of half a million people, but despite having it surrounded by huge numbers of troops and militias, it appears that little territory has been gained since the initial push into the city.
ISIS controls the bulk of the Anbar Province, which is Iraq's largest and most heavily Sunni. The proximity of Ramadi to Baghdad has made recovering it a top priority, but with months of time to prepare ISIS has shored up the defenses, particularly in central Ramadi, quite a bit.