According to Pentagon officials, a series of heavy US airstrikes against Ramadi, the capital of the Iraqi Anbar Province, have killed at least 350 ISIS fighters in the past week. Officials estimated the overall ISIS force there before the strikes at 600 to 1,000.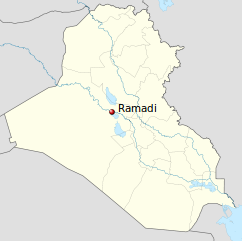 The huge toll from US airstrikes came amid Iraqi military claims of a significant number of casualties they've inflicted as well. The Iraqi military claimed to have captured 60% of the city in the first day of the attack.
Defense Secretary Ash Carter still described the Iraqi offensive as "disappointingly slow" in separate comments today, saying he is certain the city will eventually fall, but once again talking up his offer of US attack helicopters for the attack on the city.
Ramadi was captured by ISIS back in May, a stunning loss that both US and Iraqi officials predicted would be overturned in a matter of days. Despite this, it took over six months for Iraqi troops to even successfully surround the city, and there is no timetable for retaking it.