Weekend sabotage of the power lines leading from Ukraine into the Crimean Peninsula is only expected to take 3-4 days to repair, according to engineers familiar with the situation, but that is only once they are able to get access to the site of the pylons destroyed in Ukrainian Kherson.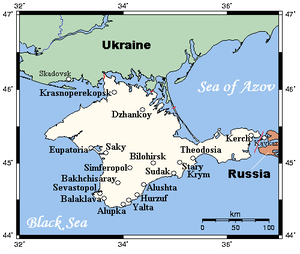 The pylons were blown up by some as-yet-unknown faction, and Ukrainian ultra nationalists are out in force, preventing repair crews from reaching the site to try to effect repairs. This means the peninsula will be without electricity for the foreseeable future.
After its accession into the Russian Federation last year, Russia foresaw the danger of having Crimea dependent on Ukraine for electricity, and has been in the process of laying underwater cables from the Russian mainland. Those cables, however, won't be ready to power the peninsula until 2020 by most estimates.
To make matters worse for the Crimeans, Ukrainian Premier Arseniy Yatsenyuk imposed a "temporary ban" on all cargo entering the peninsula by land. This effectively forces Crimea to rely purely on shipments by sea for basic goods.
Russian officials have blasted the attack on Crimea's power supply as "terrorism," and say they believe the nationalist groups blocking the repairs are likely the ones who blew up the pylons in the first place.