An apparent US drone strike against Somalia today killed at least eight fighters from the al-Shabaab group, in an overnight strike that targeted a long-time Shabaab base 120 km northwest of the Somali capital of Mogadishu.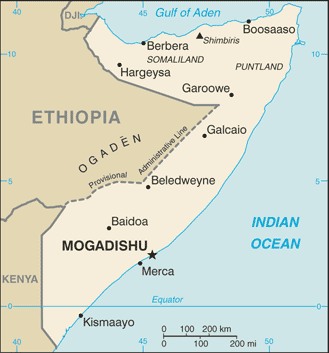 Details are still emerging on the incident, but locals reported three explosions at the base, and Somali police are reporting a local al-Shabaab leader was among the slain in the attack. Shabaab has not confirmed this, however.
This is the latest of several US drone strikes against al-Shabaab targets inside Somalia, generally aimed at leaders in the group who were linked to attacks against targets inside neighboring Kenya. There was no report today's attack targeted anyone specifically involved in that, however.
US drone strikes launched in Somalia are generally believed to be launched from CIA sites, and such attacks are generally not publicly commented on by US officials, apart from bragging about successful assassinations.