When Israeli Prime Minister Benjamin Netanyahu addresses the UN General Assembly, it's a given that his tone will be a combination of fury and incredulity, and that held true again today, with his speech, as usual, pretty much entirely about Iran.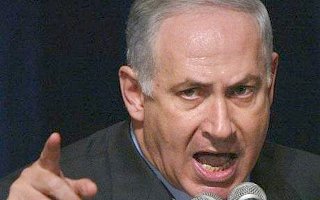 Netanyahu lashed the P5+1 nuclear deal with Iran, threatening to attack Iran before ever allowing them into the "nuclear weapons club," and accusing Iran of building up a global terror network aimed at destroying Israel while the world sits silently by, adding that Iran would destroy all of Europe and the United States too.
Aiming to punctuate his claim of "deafening silence" about Iran, Netanyahu then spent a solid 45 seconds just glaring angrily at the UN General Assembly, his eyes darting back and forth in an apparent attempt to give the evil eye to each and every delegate present.
Netanyahu went on to predict that the rest of the Arab world would soon unite behind Israel to fight against "Iran and ISIS," attempting to conflate the two before closing off with a blanket condemnation of the UN for its "anti-Israel fanaticism."