In his interview today with The Independent, Ukrainian President Petro Poroshenko tried to talk up the possibility of peace with Russia, a dramatic shift for a politician whose whole term in office has been built around talking up the idea of a full-scale war with Russia.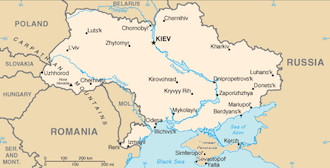 The bigger news, however, is that Poroshenko is facing growing pressure to oust current premier Arseny Yatsenyuk and install former Georgian President Mikheil Saakashvili in his place. A petition is ongoing which shows growing support for the Georgian as a "reformer."
Ukraine's struggles with corruption are only growing, and since being installed as Odessa's governor Saakashvili has been very outspoken in his opposition to "oligarchs" who the government are blaming for the corruption. Poroshenko insisted Saakashvili has his support on the matter.
But when asked pointedly about Saakashvili becoming the new premier, Poroshenko was a bit more coy, saying he believes Saakashvili would make a "great prime minister of Georgia" but not addressing directly the possible job opening.
If Poroshenko wants to resolve tensions with Russia, Saakashvili couldn't be a worse choice, as the Georgian President was best known for his 2008 attack on breakaway South Ossetia, during which the military hit Russian troops that were known to be positioned in the area, starting the brief Russo-Georgian War, during which most of Georgia's military was destroyed.