Speaking to his nation's top military commanders on Monday night, Iraqi Prime Minister Hayder Abadi declared the battle for the town of Baiji and the adjoining refinery to be "crucial" to the fate of the ISIS war, saying attacking it is a "challenge to the heart" of ISIS and taking the refinery would be a threat to ISIS' "fundamental existence."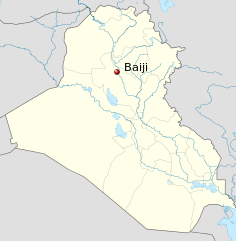 Abadi's comments were discussed by an Iraqi military commander on state television on Tuesday, saying the meeting was held in Salahuddin Province, where Baiji is located. Parts of the town have repeatedly changed hands over the past year.
The town of Baiji is presently contested, with ISIS forces controlling central neighborhoods, but some of the outskirts still held by Iraqi forces. Neither side has really conclusively controlled the town in some time for more than a few days at a time.
The town itself is more or less inconsequential, however, and the real prize is the refinery. The Baiji Refinery is the largest in all of Iraq. It has not been in active operation in a year, however, with ISIS holding much of the grounds and the Iraqi military having a few of the most important buildings.
How valuable the refinery is after a year of fighting over it, however, is unclear, as the sheer amount of damage being done in the clashes is believed to be substantial, and officials have suggested that even if they did take it over, it would be some time before it could be operational again.
Abadi's decision to suddenly emphasize Baiji as the most important part of the war may reflect that the area is so heavily stalemated, as opposed to presenting Anbar as such. The Anbar offensive has gone extremely poorly, with Iraq has lost ground there in recent months, and predictions of a quick counter-offensive never panned out. Emphasizing Baiji may not
get Abadi anything, but it at least avoids setting the military up for another failure.