While last week's fighting in Yemen focused on the city of Taiz, it is now spreading elsewhere in the central portion of the country, with significant fighting in Mukayris, in the Bayda Province, leaving at least 40 people dead today.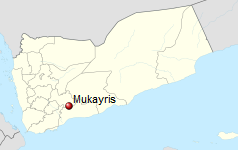 After pro-Saudi forces captured the southern port of Aden, both sides were believed to be focusing on Taiz as a key route between Aden and the Houthi-held capital of Sanaa. Mukayris is a backup plan with Taiz turning into such a mess, as it too lies on one of the nation's few major highways, connecting Sanaa to the southern coast.
Today's fighting in the area left 19 Houthis, 15 pro-Saudi fighters, and another six civilians slain. Through 150 days the Saudi war against Yemen has left some 4,500 killed, including a massive number of civilians.
After taking Aden, the pro-Saudi forces seized more territory along the southern coast, though they have lost some of that territory to al-Qaeda in the Arabian Peninsula (AQAP), which has been benefiting from the fighting. The Houthis retain control over most of the country, particularly the north.
This has made the area along the border between Saudi Arabia and Yemen a dangerous area indeed, with three more Saudi fighters killed today in cross-border shelling, and another three wounded. Over 50 Saudis have been killed in cross-border shelling, mostly troops, and including at least one general, who was slain over the weekend.