Tensions continue to rise on the Korean Peninsula today after South Korea launched a series of artillery strikes against targets in the North yesterday, and has today ruled out ending its government program of broadcasting propaganda through loudspeakers across the border.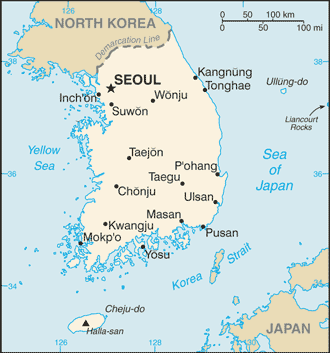 South Korea hadn't done the broadcasting for over a decade, but brought back the loudspeakers earlier this month to deliver "information about South Korea's development" to North Korean residents, sparking angry condemnations from the North.
This came to a head yesterday when South Korea detected a "small rocket," believed to be an anti-aircraft weapon, was fired at one of the loudspeakers. It didn't appear to hit it, however. South Korea responded by firing dozens of artillery shells against the north.
North Korea now says it is putting its military on a "war footing" over the incident, and asked for an urgent meeting at the UN Security Council about the situation. Diplomats say there has been no discussion at the UN about holding such a meeting.
China and the US both expressed concern about the rising tensions, though the US insisted it was entirely North Korea's fault, and demanded that they halt their "provocations" of complaining about the loudspeakers. South Korean DM Han Min-koo vowed to "sever the vicious cycle of North Korea's provocations" once and for all.