Iraqi ground troops are "more than half way" through a plan to surround the Anbar Province capital city of Ramadi, according to Pentagon spokesman Pat Ryder, who says he believes surrounding the city is "a good plan" for eventually retaking it.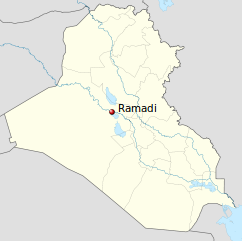 Iraq has been carrying out this offensive for four weeks now, after promising to retake Ramadi from ISIS in a matter of days. ISIS has destroyed or blocked most of the roads leading into the city to try to fend off the planned offensive against it.
Ryder went on to say that the US and its coalition partners were providing military advice and assistance to the offensive through "joint operation centers," and had attacked several ISIS targets in the area around the city.
ISIS has still managed to slow the plan to surround the city several times with counter-attacks, and the value of the city of roughly 500,000 people has them committing a fair number of forces to defending it from the Iraqi military and its militia allies.