An open letter published today in Israeli newspaper Haaretz and signed by dozens of former top Israeli military and intelligence agency brass is encouraging Prime Minister Benjamin Netanyahu to stop campaigning against the Iran nuclear deal and accept that it is "accomplished fact."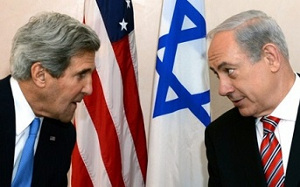 The letter urges Netanyahu to instead focus on implementation of the deal as well as securing more US military aid, which reports have suggested the White House is offering to the tune of $3-$4 billion. It also urges Netanyahu to make some moves toward renewing peace talks with the Palestinians to show some "credibility" in the two-state solution.
The theory, according to the letter, is that if Israel seems at least open to a two-state solution, it will allow Israel to put together a coalition of Sunni Arab states that don't like Iran into a unified front against Iran on various issues going forward.
Netanyahu openly campaigned against the two-state solution during this year's election, and has put heavy effort into lobbying the US Congress to try to overturn the Iran deal. The effort has added to tensions with the Obama Administration, and Secretary of State John Kerry has warned that if Congress does kill the deal, the world will blame Israel first.
Netanyahu intends to address 100 US Jewish organizations on Tuesday via a video feed, and is expected to push them to join the lobbying effort against the nuclear deal. Israel has struggled to sell the anti-deal narrative to US Jews, with polls suggesting they are more likely to back the deal than the average American.