After three days of intense fighting in Badakhshan, in northeastern Afghanistan, the Taliban overran a major police base, capturing 110 police in the largest surrender of Afghan forces in years. Police officials blamed the government for the defeat, saying they didn't get sufficient reinforcements.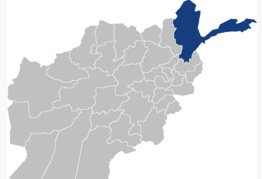 The surrender wasn't unconditional, however, and as agreed, the Taliban captured, disarmed, and ultimately released all of the police, before claiming the base for themselves, adding to their growing territorial possessions across Northern Afghanistan.
Before the 2001 US invasion sand occupation, the Taliban's control in Afghanistan centered around the country's south, with northern provinces often disputed with the Northern Alliance. This year, however, the Taliban's "spring offensive" has focused almost entirely on the north, and they've gained more control in the region than they've had in a long, long time.
The district where the police base was located is largely cut off from the rest of Afghanistan after heavy rains, and the Taliban appears to have taken advantage of the knowledge that reinforcements couldn't be dispatched to carry out a longer-than-usual offensive against the base.