Iraqi officials are once again predicting a victory in the city of Ramadi today, months after it fell to ISIS forces, and Iraqi ground troops have made their first moves in an offensive against the outskirts of the city, starting at the University of Anbar, which reportedly is being used as an ISIS base.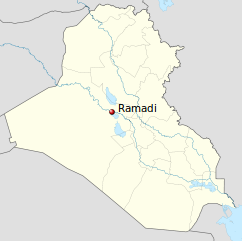 Locals reported that the university complex faced attacks from Iraqi forces as well as heavy aerial bombardment from the US, and that several buildings have been badly damaged or destroyed outright. In spite of this, ISIS appears to still hold the area.
Iraqi counter-terror spokesman Sabah Noamani said that the university is a "significant stronghold" for ISIS, and cutting it off from the city of Ramadi, a few miles to the north, would be a major blow to ISIS coordination in the area, cutting supply lines.
Unlike past efforts against Ramadi and other Anbar holdings, Iraqi troops are said to also be supported by a small number of Sunni tribal militias this time. In the past, the Iraqi forces have relied on Shi'ite militias from elsewhere in the country, and the use of Sunnis in the Sunni-dominated Anbar Province is something the US has been pushing for.