The Minsk ceasefire back in February dictated that both the Ukrainian military and rebels would withdraw all weapons of over 100 mm caliber from the front lines of the battlefield. It's been a mixed success, with both sides withdrawing some, and keeping others, and both blaming the other for not withdrawing more first.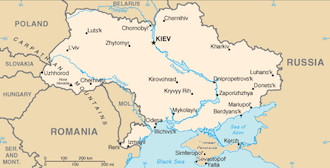 Today, the OSCE has announced that a preliminary deal has been reached by the two sides on yet more pullbacks, this time focusing on weapons smaller than 100 mm, aiming to further calm the tensions that have dominated the months that have followed.
Not that the ceasefire is nearly the failure that Western hawks have presented it as. A few incidents aside, fighting has all but stopped since February, and while there has been a lot of rhetoric on both sides, neither seems eager to quickly return to war.
The new weapon pull-back deal is surprising though, since both sides have been so reluctant to follow through on the deals already in place. It is likely to just add to complaints by both that the other side isn't taking things seriously enough.