After a weekend of fighting in the Western Ukrainian town of Mukacheva, President Petro Poroshenko ordered the nation's security services and police to organize a disarmament of various far-right "illegal groups," saying they would not be allowed to destabilize the country.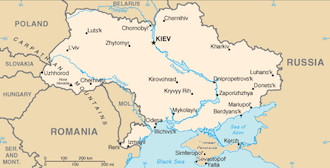 Poroshenko in particular took aim at the neo-Nazi Right Sector, saying he didn't believe any political faction in Ukraine should have its own armed "criminal cells." The Ukrainian government has long relied on the Right Sector for support since the ouster of the pro-Russian government, but seems to be splitting with them in recent months.
The Mukacheva fighting was believed to center around fighting by various right-wing factions over control of certain smuggling routes between Ukraine and Hungary, Slovakia, and Romania.
The Right Sector has ruled out disarming, insisting it needs its weaponry to defend the country against Russia. The group is harshly anti-Russian, and had previously been sending its fighters to the east to fight secessionists. The ceasefire is among the grievances of the Right Sector, which insists any peace with ethnic Russians is "unconstitutional."