Earlier this year, in a highly controversial move, the Pentagon sent troops to Western Ukraine to begin training national guardsmen working for the nation's Interior Ministry. The move was opposed by some in the region because it began amid a ceasefire in the Ukrainian civil war, a ceasefire the US is seen in opposition to.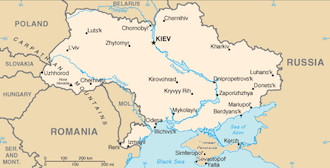 Now, Lt. Gen. Ben Hodges is reporting that the Pentagon is considering a dramatic escalation of that training, expanding it to cover not just the interior ministry, but Ukraine's special forces and potentially the entire army. He said the expansion wouldn't necessarily include US arms being sent to the country, but didn't appear to rule it out, either.
Hodges did, however, emphasize millions of dollars in US military aid already provided, non-lethal aid like armored vehicles and body armor, while claiming the Russians have "gone after" the radar provided to Ukraine's military because it's been such a change on the ground.
All of this comes, again, in the middle of a ceasefire that is more or less holding, and while the Pentagon is keen to blame "Russians" for everything going on in Ukraine's east, there really isn't a lot going on there right now to begin with. The narrative of an ongoing war seems to be pushed by the US primarily to justify further intervention in the region.