Russia's OAO Gazprom company has confirmed today that it is halting all shipments of natural gas into neighboring Ukraine because that nation's natural gas monopoly Naftogaz has not made any advanced payments for gas in July.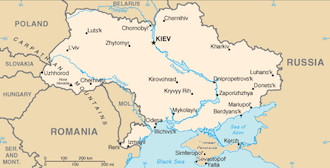 This is the latest in a series of halts, usually surrounding non-payment by Naftogaz, as the companies fight over pricing on a regular basis. When Ukraine was a close Russian ally, Gazprom was obliged to give them a substantial discount, and Naftogaz has been unhappy with attempts to sell to them at closer to market prices.
The last pricing agreement expired at the end of June, and EU-brokered talks on a new price were unresolved, with Naftogaz announcing yesterday it wouldn't make any payments until a new price was set. Gazprom, consequently, isn't sending them any gas.
Ukraine gas sales are a major deal to the EU, much of which similarly relies on Gazprom for natural gas supplies, because the primary pipeline into Europe goes through Ukraine. Gazprom has warned that supplies to Europe might be disrupted in the case of a long-term lack of sales to Ukraine, because Ukrainian companies will try to siphon off European supply.