Late last week, ISIS forces disguised in the uniforms of Kurdish fighters infiltrated the Kurdish border town of Kobani (Ayn al-Arab in Arabic) and started attacking residential areas. They barricaded themselves in after a massacre, sparking a two-day battle, which Kurdish officials now say is over.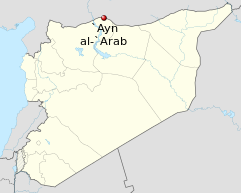 Even into the weekend, when the fighting was said to be virtually over, explosions were ripping through parts of Kobani, apparently the result of bombs left behind in the ISIS attack. The death toll is still being reckoned, but what was being reported as 200 civilians killed earlier this weekend is now being revised by some locals to at least 300.
The death toll may continue to rise, as well, with Turkish officials confirming their hospitals alone are treating over 150 wounded civilians who were sent across the border after the attacks. Other wounded likely remain inside Kurdish territory.
The infiltration by ISIS forces came right into the heart of the town, and there was apparently no serious effort to secure a path of retreat for them. The huge toll may well be softening up Kobani for another push by ISIS, however, which has attacked the border town repeatedly in the past two years.