Speaking with French officials today, Palestinian President Mahmoud Abbas continues to try to distance himself from the attempted rapprochement with Hamas and the now failed unity government, promising he will not allow anyone in the new "unity" government who doesn't publicly recognize Israel.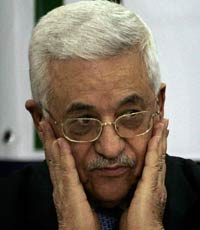 Abbas announced the old government's resignation late last week, taking Hamas members of that government by surprise, since apparently they were not informed beforehand of the shift, which Fatah officials attributed to indirect Hamas peace talks with Israel.
Ironically, Fatah is now trying to publicly spin the move as pandering to Israel, claiming the new Fatah-dominated government, while stretching the definition of the word "unity" will uniformly accept Israel, and hoping this will bring them back to the peace process.
This is unlikely to work, however, for while Israeli officials claimed the Hamas-Fatah unity deal was the reason they withdrew from the last peace talks, they actually announced the withdrawal days before the unity deal was reached in the first place, and the explanation was a retroactive one by Israel to placate Western officials unhappy with the end to the peace process. Israel's far-right government wanted out of the talks badly, and its even more far-right government now seems disinterested in getting back in.