A new statement from Ukraine's far-right Right Sector party today demands an end to the Minsk ceasefire deal, negotiated between Ukraine and eastern rebels with the help of Russia, Germany, and France. The ceasefire was reached back in February, and has mostly held since.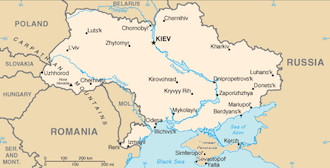 The Right Sector was critical of the negotiations in the first place, saying the ceasefire was illegal under Ukrainian law. They have called for a resumption of the civil war against the autonomous east, and have claimed the military has the right to unilaterally resume the war, irrespective of the government's negotiated deal.
The new statement called for a resumption of military operations to "liberate" the east from the easterners. The Right Sector's popularity is overwhelmingly centered around the far west of Ukraine, and the city of Lviv. They are openly hostile to the ethnic Russians who live in the east.
The Minsk ceasefire has intermittently been under pressure from local fighting between rebels and military forces, but has overwhelmingly held. The Poroshenko government has tried to placate the pro-war factions in the national parliament by predicting an imminent collapse, but the longer it lasts the more the Right Sector and others will agitate for "reforms" leading to a new round of fighting.