Iraqi Shi'ite militias are threatening retaliation against US forces in the country today, claiming the several recent incidents of friendly fire deaths in airstrikes proved that the Pentagon was deliberately targeting Shi'ite militias during the fighting against ISIS.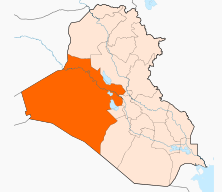 The recent incidents took place in Anbar Province, where thousands of Shi'ite militia fighters have been rushed by the government to try to resist a recent ISIS expansion, particularly around the recently taken over city of Ramadi.
The Pentagon, used to resting on its laurels with the default denial that anyone but ISIS were killed in any of their airstrikes, issued what must be the least credible denial possible by insisting they don't have any planes flying over Anbar in the first place, despite this being where all the fighting in Iraq is lately and despite the Pentagon itself issuing statements almost every single day talking about airstrikes in the Anbar Province.
That's not to say that the US deliberately attacked the Shi'ites, but the Pentagon's determination to deny any wrongdoing under any circumstances is ringing so hollow at this point that there is very little reason for anyone to give them the benefit of the doubt.
With the Iraqi government increasingly reliant on the Shi'ite militias to do their fighting, the risk of a falling out between them and the Pentagon could be very bad for the US indeed, as if the Abadi government has to pick sides, they'll be virtually obliged to back the Shi'ites.